"After 15 years spent making wine in different wine regions of France and the world, including 5 years in the Grands Crus Classés of Bordeaux, I wish to share my knowledge and experiences with an audience of wine lovers coming from all walks of life.
Thus, I created French Winemaker, a universe where great wines bring great people together around know-how, creativity and enthusiasm. For that, I myself imagined innovative, fun and creative oenological workshops to federate these people and to live together unique experiences in their discovery of the great wines from Bordeaux in Prague."
Innovative, fun and creative wine workshops

imagined and led by Antoine
Step into the shoes of a French Winemaker and create your own cuvée !
Discover the Workshops
An international community which brings together French Winemaker followers, all linked by an exceptional state of mind and a desire to live great experiences with french wines.
Discover the community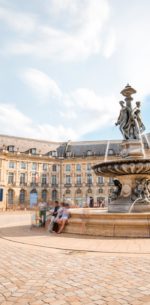 Wine world capital city, Bordeaux is the French Winemaker birthplace.

Prague, the heart of activity
Traditional, modern and dynamic city, Prague is the heart of French Winemaker activity outside France.